Apple Disease Update: May 20, 2020
Find this article at:
go.ncsu.edu/readext?693414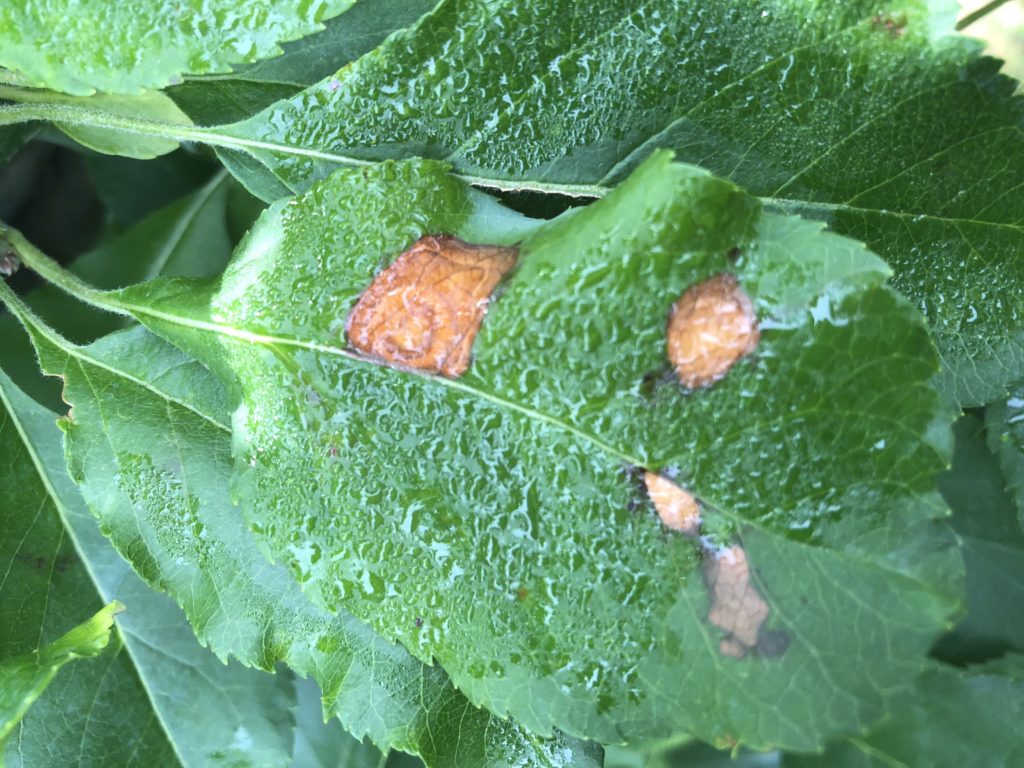 Short and sweet pathology update  this week since Glomerella and rain is probably the main thing on the brain. Coincidentally,  rain of this magnitude fell over Western NC during the same week in 2018 so we have somewhat a blueprint to work from here. Even though it's been cool, combined with the wetting duration the conditions are still favorable for GLS infection and disease development.
As of 3:30 p.m. on May 20th, over 4.5 inches of rain have fallen in Henderson County, NC. The forecast shows little break from rain over the next ten days, with this Saturday (5/23) looking like the best opportunity for a fungicide application. Of course, it may be impossible to even get tractors through the orchard to get a fungicide application on before the round of precipitation. If you are unable to make an application due to flooding, a tight-interval spray program along with giving a good effort towards cultural control will be important in blocks with historical issues of Glomerella leaf spot and bitter rot issues. We will address that in another post, but for now here are some considerations moving forward over the next week:
Consider an application of a strobilurin (FRAC 11) containing fungicide between the rains, even if you applied a FRAC 11 last time you sprayed. Year after year, strobies and captan have been the best performing fungicides in our research trials. Even if you've made two applications already, these rains could warrant an additional application. Make sure to apply the fungicide at its highest rate and combine with a half rate of mancozeb or captan for resistance management. Keep in mind that the 77 day PHI is quickly approaching for some cultivars which may affect your ability to apply mancozeb.
If you have or suspect strobilurin resistance in your orchard, consider applying a 3/4 or full rate of captan with either Omega, Aprovia, or Fontelis. We haven't tested Omega in a few years, but it's performed ok against bitter rot in other states. Aprovia and Fontelis usually provide a decent level of control against GLS in our orchards. While many of us were taught that captan needs to be reapplied when greater than 2 inches of rain has occurred. A 2008 study by Xu et al., has found that any rainfall greater than 1 mm (0.04 inches) can reduce captan residues by an average of 50%!Applying the higher rate of captan may result in greater residues remaining on the leaves after the rain event. Applying the locally systemic fungicide should provide longer protection since it is less prone to wash off.
Applying captan or mancozeb in a LIGHT rain may help its distribution through the canopy. If you are applying a single site fungicide such as Flint Extra, the fungicides provide greater residual activity if they can dry and be absorbed by the plant tissue prior to rain.
If there's a window of no rain, try to hit problem blocks first. You may want to check your 2018 notes and see what cultivars/blocks were particularly hit hard during that year.
Please let me know if you have any questions, concerns etc. It's tough to provide a one-size-fits-all approach to GLS management (especially during these weather conditions), as topography, resistance issues, labor, and production goals differ between each grower. I'm also happy to make a visit to your orchard and have an excuse to use a mask.