2019 Apple Disease Update: 3rd and 4th Cover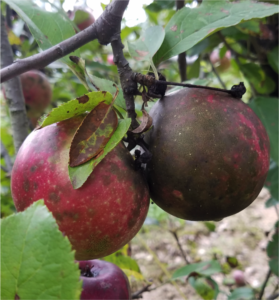 While the weather has been relatively dry for the region over the past week or so, high relative humidity accompanied by above average temperatures still make it ideal conditions for infection by the Glomerella leaf spot and bitter rot fungus. Furthermore, infection by the flyspeck and sooty blotch fungi are active at this time of year. Rain is in the forecast for Thursday (5/23), so be sure to reapply a fungicide prior to this rain event if trees haven't been protected in the past 10 days.
Flyspeck and Sooty Blotch: If a fungicide has been applied in your orchard in the past week you should be protected against flyspeck in sooty blotch for the next predicted infection period. For situations in which fungicides applied 10 days ago or more, you are at MODERATE risk for SBFS infection. Topsin, or other other products containing thiophanate-methyl, have long been the go-to for SBFS management across the region. However, in non-rotational fungicide programs evaluated in 2018, thiophanate was weaker than most other programs against sooty blotch fungi. Not included in the graph below is a FRAC 3 (S.I.) fungicide, such as Inspire Super, which consistently performed well against the disease in 2016 and 2017.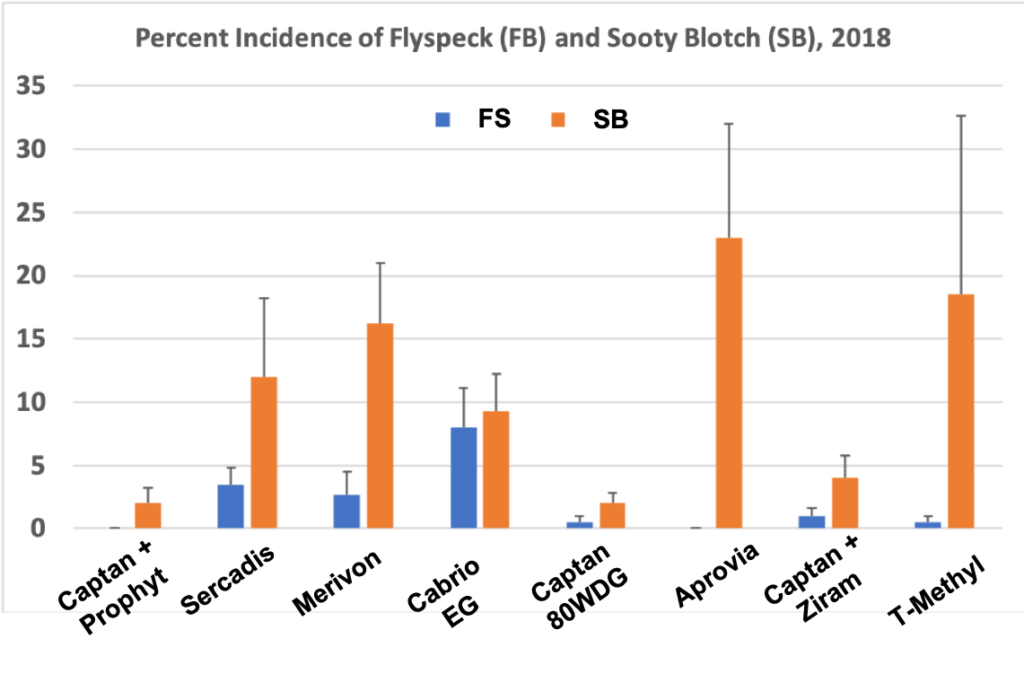 Glomerella Leaf Spot and Bitter Rot: Do not let the absence of frequent rainfalls fool you with respect to Glomerella leaf spot and bitter rot management. The hours of leaf wetness, humidity within the tree canopy, and warm evening/early morning temperatures when dew is present on leaves still serve as ideal conditions for the GLS/bitter rot fungi. While this year we are evaluating possible spray combinations to extend spray intervals for this devastating disease, I'd suggest continuing on a maximum of 10 day application intervals, particularly on highly susceptible cultivars where you've experienced problems in the past. Our past few years of research have shown us that tightened spray intervals, and products containing a strobilurin (FRAC 11) and Captan (5lb/A) or Captan (3/4 rate) + ProPhyt or Captan (1/2 rate) + Ziram (1/2 rate) show the greatest activity against Colletotrichum species present in NC apple orchards. Although research is not complete on cultural methods of control, you may want to consider the following cultural control methods in combination with current fungicide programs:
Sanitation: Remove mummified fruitlets, clear and destroy fruit drops (e.g. hand thinning, June drops, fallen apples near harvest)
Include calcium chloride applications in cover sprays
Remove fire blight strikes/cankers
Promote air movement, reduce humidity within canopy
Heavy winter pruning followed by Apogee maintenance program
Harvest: Get fruit to long term storage conditions ASAP