Fire Blight Survey-Urgent Please Respond!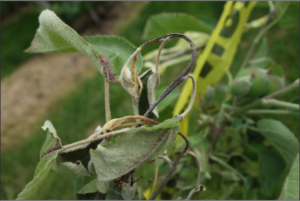 Dear Southeastern Apple Growers:
A U.S. research team including plant pathologists, horticulturalists, and economists has been formed to address and improve fire blight disease management. We wish to apply for a USDA Specialty Crops Research Initiative proposal tackling stakeholder-driven applied objectives to develop region-specific optimal and sustainable best management options for blossom blight and shoot blight, to understand the economic impacts of these practices, and to deliver new information to growers in a timely manner.
The team consists of:
Dr. George Sundin, Michigan State University
Dr. Jim Adaskaveg, University of California-Riverside
Dr. Awais Khan, Cornell University
Dr. Kerik Cox, Cornell University
Dr. Karina Gallardo, Washington State University
Tianna DuPont, Washington State Extension
Dr. Tom Kon, North Carolina State University
Dr. Sara Villani, North Carolina State University
We request that you please answer a short survey asking for information about fire blight on your farm and your current management practices. The survey is anonymous to answer it:
Thank you very much for your assistance!
Sara and Tom