WNC Orchard Insect Populations for April 17, 2018
Find this article at:
go.ncsu.edu/readext?521862
---
April 17, 2018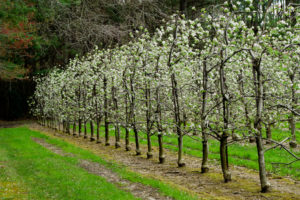 UPDATE ON CODLING MOTH AND ORIENTAL FRUIT MOTH BIOFIX: Biofix for the OFM at the Mountain Horticultural Crops Research Station in Mills River occurred on 2 April. Codling Moth biofix has not yet occurred at Mills River, but is expected to occur later this week with warmer weather returning. Biofix is usually about 5 to 7 days earlier in lower-elevation orchards, including Polk, Cleveland, Lincoln, and Burke Counties.
For real-time degree-day accumulations for key apple insects, visit the new N.C. Cooperative Extension's Pest Risk website at:
https://agroclimatenc.ncsu.edu/apple/pestrisk.aspx
You will need to select your nearest weather station and the biofix date.
PREPARING FOR PETAL FALL SPRAYS: With petal fall sprays approaching, now is good time to remember the key insect pests targeted with this spray. The choice of insecticide(s) to be applied should be based on the following pests that pose a threat to orchards.
Plum Curculio is potentially the most damaging and critical insect to control at this time. Curculio adults overwinter primarily in wooded areas adjacent to orchards, and immigration into orchards extends from bloom through late petal fall. In cool springs, such as this year, the immigration period can be a little longer, but never beyond first cover. Damage is the result of females laying eggs in apples and males and females feeding on apples. The resultant scarred areas can be extensive under heavy pressure. Because of the curculio's entrance from wooded areas, damage is highest adjacent to wooded borders up to about 50 to 75 feet into the orchard.
In the vast majority of cases, a single insecticide application made at petal fall provides high levels of control. The most effective insecticides include Avaunt, Actara, Imidan, and Belay. Sevin applied for thinning also has activity against plum curculio, but it is not nearly as effective as the aforementioned products. Among the premix products, Voliam Flexi, which contains the active ingredients in Actara (thiamethoxam) and Coragen (chlorantraniliprole), is also an option.
Rosy Apple Aphid (RAA) will often require control in orchards where an insecticide active against RAA was not applied before bloom (preferably a neonicotinoid or pyrethroid). Rosy apple aphid feeding results in malformed, curled leaves and misshaped, gnarled fruit. Damage is most prevalent on the exterior of orchards. Infestations vary considerably both among years and among orchards within years – i.e., often RAA never infests orchards not treated with insecticides. Scouting at petal fall to determine the need for an insecticide can be done by recording the percentage of shoots on about 10 trees near the periphery of the orchard that have RAA-infested leaves; a threshold for treating is 10% of leaves infested.
Insecticides effective against RAA at this time include Admire, Actara, Assail, Sivanto, and Movento.
Oriental Fruit Moth control may be necessary in orchards where mating disruption for this pest was not deployed before bloom. In orchards not using mating disruption, a single insecticide should be applied at petal fall, or between 400 to 500 DD after biofix (biofix occurred on April 2 in Henderson County). Sevin applied for thinning will also control first generation OFM if applications are properly timed. First generation damage can result in shoot infestations as occurs on peaches, but larvae can also infest fruit. Fruit damaged early in the season by OFM usually drops off the tree. Insecticides recommended for OFM at petal fall include Avaunt, Assail, Imidan, and Voliam Flexi.
Green Fruitworm is a sporadic pest that feeds directly on small developing fruit, but becomes apparent beforehand when feeding on new shoot growth. Using feeding damage on leaves is a good scouting method to determine the need for chemical control. Waiting until petal fall to control it can sometimes be too late to avoid damage, particularly on later blooming cultivars. Hence, if an insecticide needs to be applied before bloom is finished, the only option is Intrepid, which is nontoxic to bees.
San Jose Scale (SJS). With increasing SJS problems, even in orchards treated with oil + Lorsban before bloom, post-bloom sprays between petal fall and first cover have become a more effective approach to controlling this pest. First generation crawlers are the target of post bloom sprays. Crawlers begin to emerge in mid May, and populations peak in late May to early June. Application of an insecticide at either petal fall or first cover has provided excellent season-long control in orchards that have moved to a post-bloom management program. Insecticides most effective against SJS crawlers include Centaur, Esteem, Movento and Diazinon. For resistance management purposes, it is highly recommended that insecticides used to target SJS are rotated among years – i.e., if Esteem was used in 2017, use a different product this year. NOTE: while the recommended rate of Centaur 70WP is correctly listed as 34.5 oz/acre at petal fall in the Apple Management Guide, it is incorrectly listed as 9 to 12 oz at green tip to 1/2" green.
Petal Fall Insecticide Recommendations Based on Selectivity Against Pests

E=Excellent, G=Good, F=Fair, –=no activity

Plum Curculio
Rosy Apple Aphid
Oriental Fruit Moth
San Jose Scale
Green Fruit Worm
Actara
E
E
F
–
–
Admire
–
E
–
–
–
Assail
F
E
G
F
G
Belay
G
E
–
–
–
Sivanto
–
E
–
–
–
Avaunt
E
–
E
–
E
Imidan
E
–
G
–
G
Diazinon
F
E
–
E
–
Centaur
–
–
–
E
–
Esteem
–
F
G
E
G
Movento
–
E
–
E
–
Voliam Flexi
E
E
E
–
E
Intrepid
–
–
G
–
E
---
Learn more about southeastern apple insect pests at the Apple Insect Management page.
---
2018 Average Weekly Trap Captures*
*Note that averages presented here are intended only to illustrate the timing of insect emergence and fluctuations in population activity, and not as general indicators of population levels. Some orchards included in these averages have significantly higher or lower populations than most commercial orchards in the area, resulting in averages that are sometimes skewed from what is typical. The only way to have an accurate assessment of an individual orchard's populations is to set up traps in that orchard.
---
2018 Accumulated Degree Days
Henderson County
 Biofix
Apr 9

Apr 16

–

Codling Moth

–

–

–
–
Oriental Fruit Moth

Apr 2

39

103

–

Tufted Apple Bud Moth

–

–

–

–
About degree-day models:
The degree day (DD) models predict adult emergence and egg hatch of each generation. They do not predict the intensity of populations, which can be assessed by using pheromone traps. Hence, the models should be used to help gauge the time period when control is most likely needed, and pheromone traps provide information on the need for and frequency of insecticide applications. For full details, read "IPM Practices for Selected Pests" in the Orchard Management Guide.
CODLING MOTH:
1st generation: Egg hatch begins at about 350 DD after biofix and is completed by 1050 DD. The most critical period for insecticidal control is from 350 to about 750 DD.
2nd generation: Egg hatch of the second generation can extend from about 1300 to 2600 DD after biofix, but the most critical period for insecticidal control is 1400 to about 2500 DD.
3rd generation: Adults begin to emerge at about 2500 DD after biofix, but the model is less accurate in predicting late-season populations.
ORIENTAL FRUIT MOTH:
1st generation: Only one insecticide application between 400 and 500 degree days is usually necessary, as 1st generation egg-laying is usually low on apple.
2nd generation: Effective 1st-generation control may eliminate the need for 2nd-generation control. If trap captures remain high, insecticides may be needed around 1100 to 1400 DD.
3rd generation: Insecticide may be needed at 2200 DD after biofix.
4th generation: Overlapping generations late in the season make it difficult to predict when 4th-generation egg hatch begins, but continuous egg-laying can occur from August through October. Use traps to determine the need for further insecticide applications.
TUFTED APPLE BUD MOTH:
1st generation: One well-timed insecticide application between 800 and 1200 DD after biofix will often eliminate the need for further control of TABM.
2nd generation: Only if trap captures exceed 25 moths per trap by 2600 DD is an insecticide application recommended. NOTE: Insecticides targeting 2nd generation TABM are usually not necessary if 1st generation populations were successfully controlled.