WNC Orchard Insect Pest Populations – August 18, 2020
Find this article at:
go.ncsu.edu/readext?723451

August 18, 2020
Brown marmorated stink bug continues to be the primary insect of concern, and will be through September.
Brown Marmorated Stink Bug
First generation brown marmorated stink bug (BMSB) adults continue to emerge throughout most of the region. However, temperatures cooler than normal have delayed emergence compared to previous years. Based on our degree-day model (see below) first generation adult emergence has not yet begun in Haywood County, and is not predicted to begin until next week. In Henderson County, emergence is still in the early stages, with only about 12% of emergence complete, while in Wilkes and Lincoln Counties approximately 33% and 63% of adults have emerged, respectively.
It is important to remember that this model only predicts the time of adult emergence, not population intensity. While pheromone traps are the easiest method to determine population density, a threshold level is still in the preliminary stages. We do know, however, that we have not observed damage when cumulative trap captures remain below 5 adults per trap.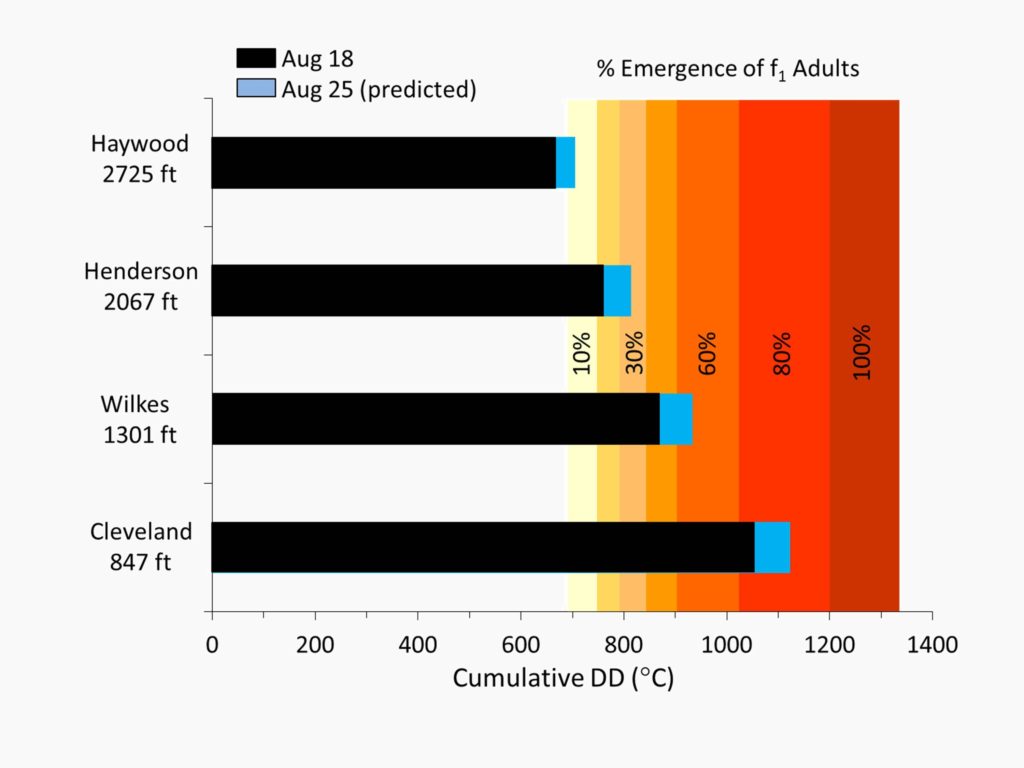 Other Insect Pests
Except for those few orchards that have recently observed high codling moth or oriental fruit moth populations, these two insects should be of little concern the remainder of the year. Two generations of codling moth have been completed in all areas, and significant numbers of third-generation moths are rare unless second generation populations were also high. While OFM populations can often increase in August and early September, widespread use of pyrethroids for BMSB will also control OFM.
---
Learn more about southeastern apple insect pests at the Apple Insect Management page.
---
2020 Average Weekly Trap Captures
*Note that these averages illustrate only the timing of insect emergence and fluctuations in populations, and are not representative of population levels in any given orchard. The only way to have an accurate assessment of an individual orchard's populations is to set up traps in that orchard.
---
2020 Accumulated Degree Days
HENDERSON COUNTY
Aug 3
Aug 10
Aug 17
Codling moth (Biofix 4/20)
1781 DD
1917 DD
2095 DD
Oriental fruit moth (Biofix 3/30)
2459 DD
2625 DD
2843 DD
Tufted apple bud moth (Biofix 4/27)
2201 DD
2367 DD
2585 DD
---
2020 Pest Trends (click to enlarge)
---
Visit WNC Orchard Insect Populations for archived posts.
---
Additional Resources