WNC Orchard Insect Pest Populations – June 30, 2020
Find this article at:
go.ncsu.edu/readext?706261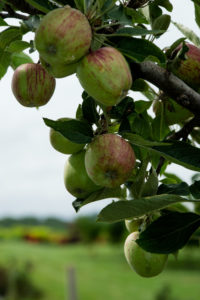 Throughout most of the higher elevation orchards (≥2000 ft), we are still in that period of low potential for insect damage. Codling moth degree-day accumulations are only at about 940 as of June 30, indicating first generation flight is complete and second generation flight is still a few weeks off. Also, OFM populations remain low in most orchards. The most common insects are secondary pests such as aphids, leafhoppers and mites, all of which can be managed with curative insecticide/miticide applications. Monitoring for these pests over the next few weeks should be conducted to determine the need for insecticides.
In lower elevation orchards, such as Lincoln and Cleveland Counties and other locations ≤1000 ft, second generation codling moth flight is just beginning. Cumulative codling moth DDs in this area are about 1400 DD, and insecticides are recommended at about 1450 DD when populations are of moderate to high density. Where populations are low – no damage by the first generation and low pheromone trap captures (no more than 1 or 2 moths per week) – insecticide applications can be delayed to 1550-1600 DD, or not applied if trap captures remain very low.
In orchards using mating disruption for codling moth and OFM, insecticides targeting second generation are rarely needed, although pheromone trap monitoring should be used to verify the absence of moths.
---
Learn more about southeastern apple insect pests at the Apple Insect Management page.
---
2020 Average Weekly Trap Captures
*Note that these averages illustrate only the timing of insect emergence and fluctuations in populations, and are not representative of population levels in any given orchard. The only way to have an accurate assessment of an individual orchard's populations is to set up traps in that orchard.
---
2020 Accumulated Degree Days
HENDERSON COUNTY
Jun 15
Jun 22
Jun 29
Codling moth (Biofix 4/20)
678 DD
778 DD
919 DD
Oriental fruit moth (Biofix 3/30)
1111 DD
1246 DD
1421 DD
Tufted apple bud moth (Biofix 4/27)
853 DD
988 DD
1163 DD
---
2020 Pest Trends (click to enlarge)
---
Visit WNC Orchard Insect Populations for archived posts.
---
Additional Resources